Krewe Events and Parties for the week of Fantasy Fest 2018
FRIDAY OCT 19th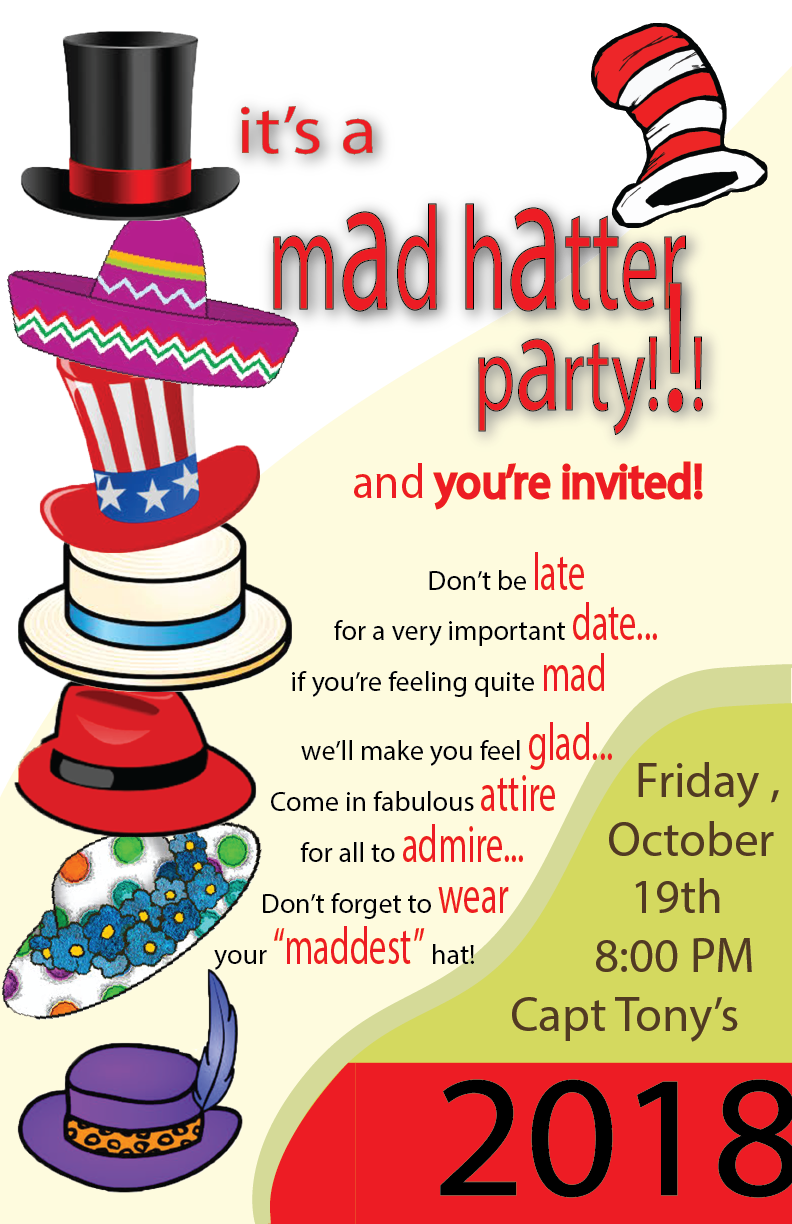 We're having a Mad Hatter Party at Capt. Tony's at 8:00pm.
The theme for the early birds of Fantasy fest. Let's get in the silly mood for what is to come later in the week by wearing your Silly, Krazy, or Outrageous hat and come out and join us at the unofficial "Mad Hatters party"! Just because you show up early to Key West doesn't mean that you can't start showing your fantasy fest spirit. Go all out and show everyone how many of the Krazykrewe are already in town. Last year we had a pretty good amount of krewe members show up at Capt. Tony's to get the party started.
Started by Ami, Don and Ef in 2015
SATURDAY OCT 2oth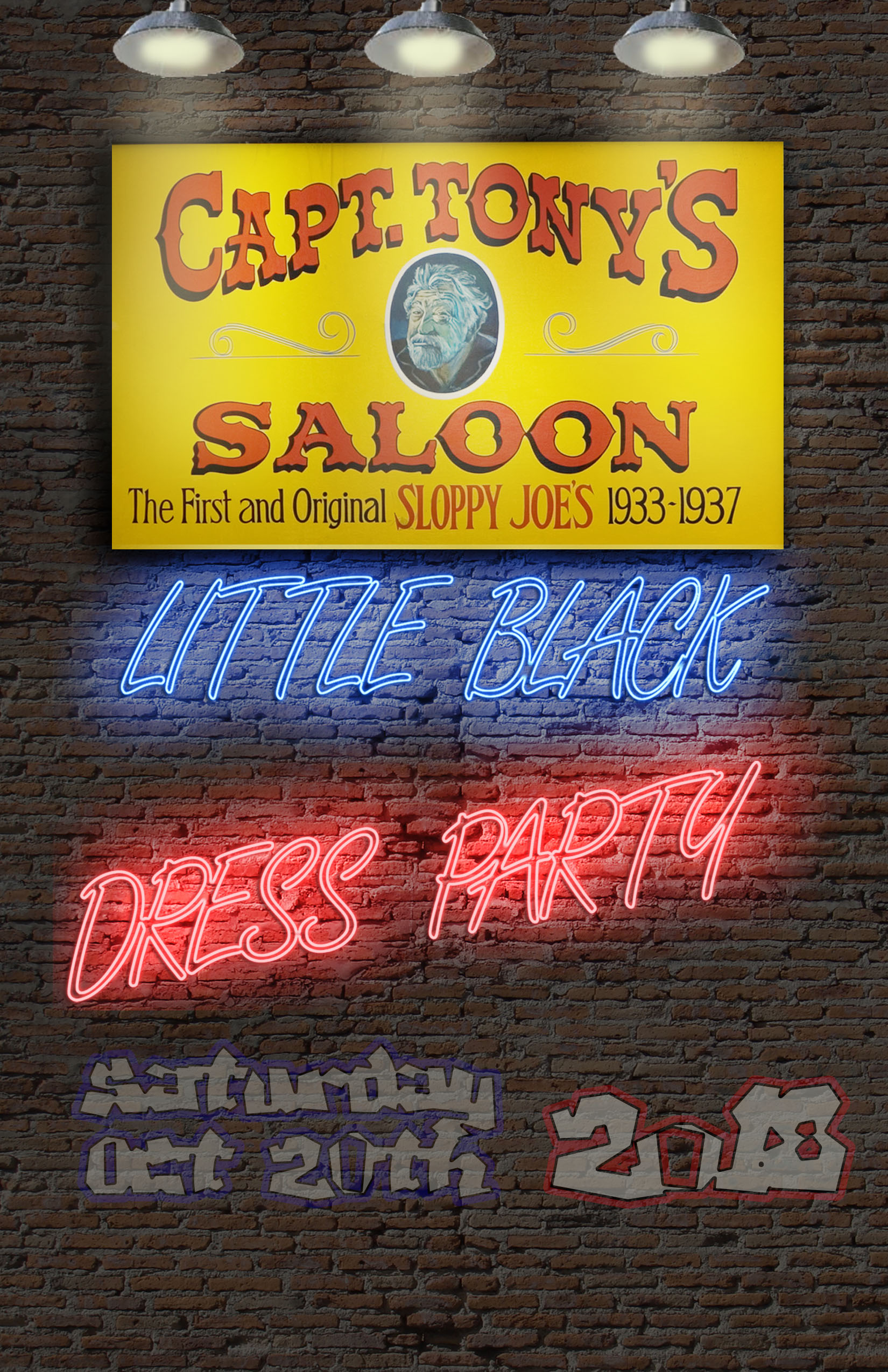 Little Black Dress Party at Capt. Tony's at 8pm
Wear your little/sheerest black dress or any color(if you are a rebel) you like but it has to be little to start the beginning of Fantasy Fest week right. The krewe keeps showing up earlier in the week to Key West and with no theme on Saturday night the krewe's own Hula suggested we do a theme night on Saturday night for those krewe members already in Key West to get everyone in the mood of Fantasy Fest. That is how most of our parties and themes have started by krewe members just talking and making suggestions on our chats monday night at 9pm EST.
Started by Krewe members Hula and Bigahm in 2011

Krewe Meet & Greet and costume swap at the Galleon Sunset Tiki Bar Sunday from 1-4pm 617 Front St.
No costumes necessary. Last year we had over 150 krewe members show up to this meet & greet and everyone had a great time getting to meet all those krewe members they have been chatting with during the year on our Forums and on the Monday nights chats. This is the perfect opportunity to meet krewe members in a relax atmosphere and a beautiful location right on the Gulf of Mexico and the sunset views from here are spectacular.
We will be having a costume swap, if you have costumes that you don't use anymore, don't quite fit right bring them to the meet and greet and we will have a table setup for costume swapping.
We will be passing out the krewe badge and merchandise to those members that ordered one from the krewe store.
It will be good for 2-4-1 drinks(Domestic beer-Well drinks-Margaritas on the Rocks and Bloody Marys) at the Sunset Tiki bar all week long starting with the meet and greet.
Appetizers will be available to krewe members.
Started By Krewe member Jeff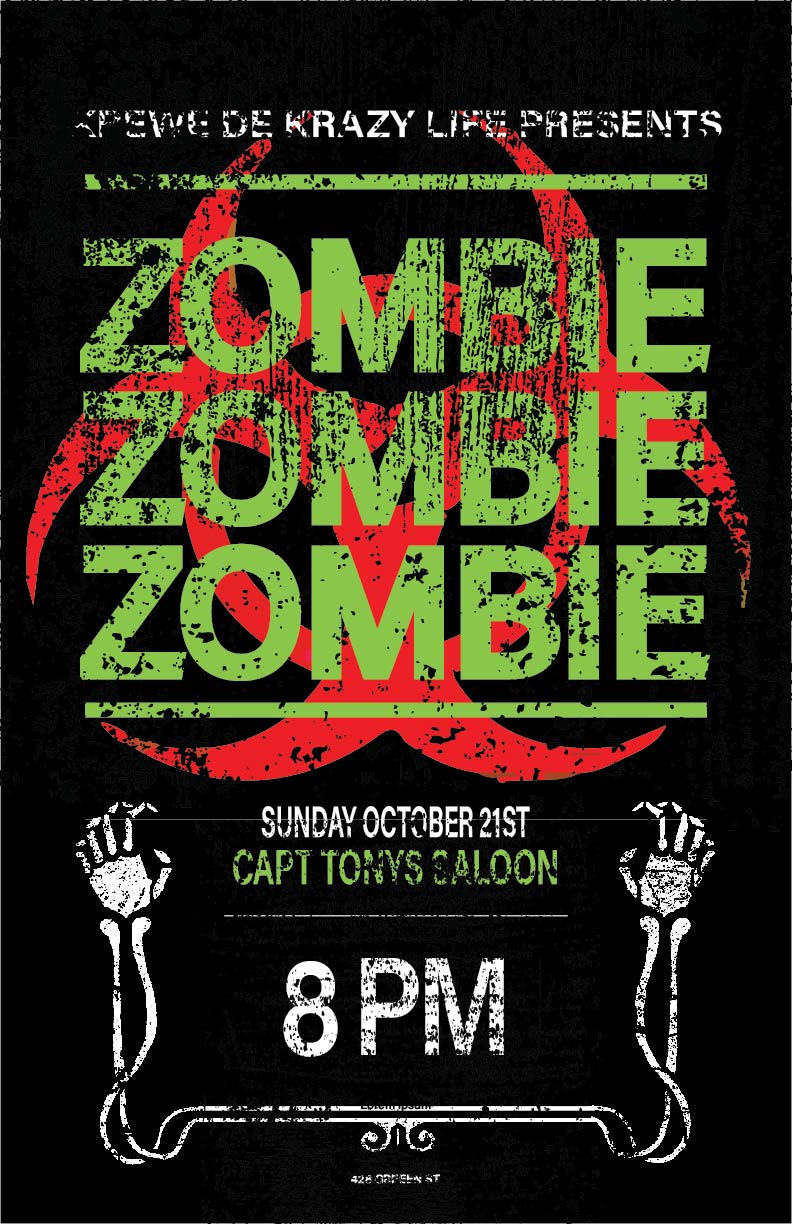 Zombie Party at Capt. Tony's Sunday Oct. 21st @ 8pm
Come all ye dead, living dead, undead, walking dead, and soulless corpses. Join us at Capt. Tony's Saloon as thousands of cycling zombies descend upon Green and Duval at the conclusion of the zombie bike ride. We are turning Capt. Tony's back into a morgue for the first ever krazy krewe zombie party!
Started by Krewe members Bonnie and Dave in 2018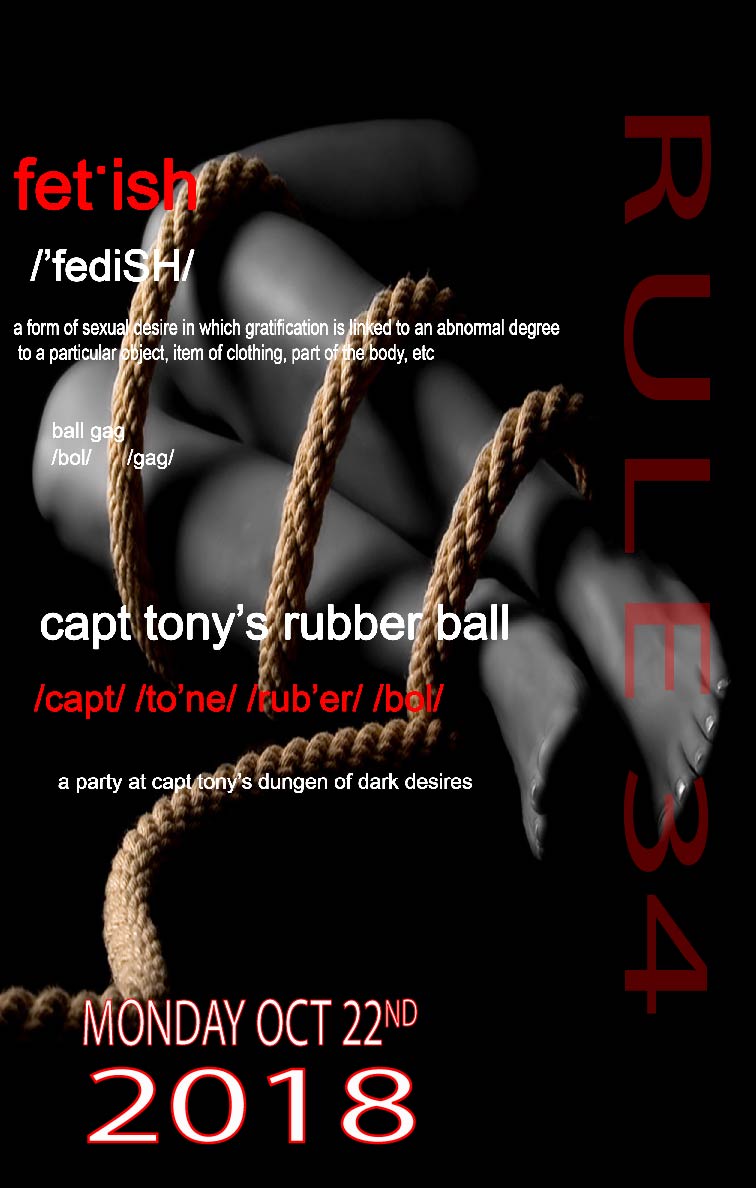 Rubber Ball at Capt. Tony's @ 8pm
Fetish night at Capt Tony's Dungeon will be a night to remember. Enter the Dungeon of Desires and get Kinky for a night you won't forget. Everyone knows that Monday night in Key West is Fetish night. This was started by Kelly's Bar & Grill as an unofficial party of Fantasy Fest and it's still put on by them every Monday night with multiple BDSM displays thru out their venue. Our own shy Dana is a performer there every year. The krewe started the Rubber Ball to compliment Kelly's fetish theme night. As all krewe members like to start their night and finish it at Capt. Tony's why not make the theme what everyone is already wearing. The little side room got turned in to a mini Dungeon with multiple BDSM equipment available to krewe members to play in and take pictures of their partners in their sexy costumes of the night. It has been such a success that some krewe members just stay the whole night a Capt. Tony's Monday night instead of battling the insane crowds at Kelly's.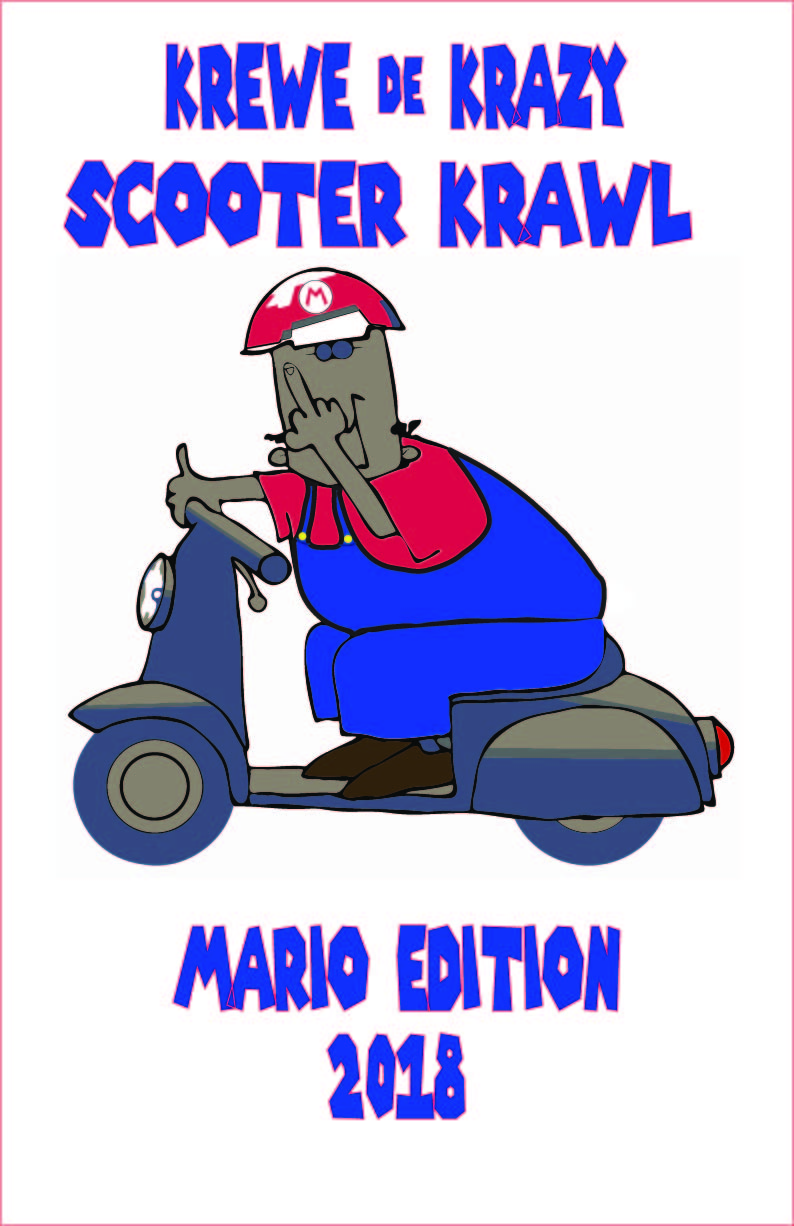 Mario Edition Tutu Krawl Poker Run - Scooters meet at

Shanna Key

  at 12:45pm, Walkers meet at Fat Tuesday's at 12:45pm
$10 a hand of poker. Best hand wins $100. Drawing for non-winners $50.
You only pay once at the first bar then get a card at each of the 5 bars. You can play as many hands as you want at $10 a hand(a hand includes 5 cards)
The krewe First raffle of the week will be done during the first krawl. We will be raffling cool prizes at each bar. The raffle tickets will be price as follows: 1/$5, 3/$10 and Arm Length for $20(Best Value).
Arm length is from the tip of your finger to the tip of your nose. To make it fun You don't have to use your own arm, you can choose some long arm person to get the best value for your buck.
We have streamline the process of passing out the cards, at the first bar you will get an envelope with your first card and 6 dots with your player number. At each stop you will pick out a card at random and place one of the dots on the card. At the end of the krawl whoever has the best hand wins $100. Then we will place all the cards of everyone else in a bag and choose 1 card for a second prize of $50. Hold on to your envelope because that's how we know if the card we pulled is yours. The card dot has to match the envelope dot. No more signing cards at bars, now all you do is place your player dot on the card as you pick it up at each bar. Easy Peazy.
This is another krewe member suggested activity. Angie mention in chat back in 2012 that they do a scooter crawl back in their hometown and that is a good time and we should plan an activity during the day for the krewe since most activities occur at night time. We had no idea what this suggestion would turned into in just a couple of years. Our first year(2012) we had 50 krewe members joined us for the inaugural Scooter Krawl, of course our krewe members showed up in costumes and Dan and James showed up with Tutus on, so that became the dress code for subsequent scooter krawls. The second year(2013) we double the amount of krewe members(114) that joined us for the krawl then the 3rd year(2014) we had a really bad storm but that didn't deter the krewe and we had 113 members joined us for the krawl even though it was raining cats & dogs. We even had 10 scooters do the krawl in the rain. Our 4th year(2015) we expected maybe around 150 members since the weather was great but when we showed up at Salute at the beach for the scooter meet up, There were about 45 scooters waiting to join us on the scooter krawl, in the first 3 years we only had about 10 to 15 scooters in the krawl and to see 45 scooters waiting that was a sight to see. We do the scooter krawl down Duval and meet the Walkers at Tattoo's and Scars and when we got there, there were about 200 krewe members waiting for us to start the poker run. At the end of the day we had about 280 krewe members do the Tutu superheroes scooter krawl poker run. Our 5th year(2016) scooters met up at Rum Row at the beginning of the island and we had 47 scooters show up for what it was the longest route yet for scooters, This was the first year where scooters and walkers would only meet at the last bar, we have gotten too big for our own good, no bar is big enough to handle close to 300 krewe members at one time so we split the scooter and walkers and each group does their own bar krawl with both groups coming together at the last bar. That worked out great. God only knows how big our krewe bar krawl will be this year.
Started by Krewe members Tony and Angie(ECB) in 2012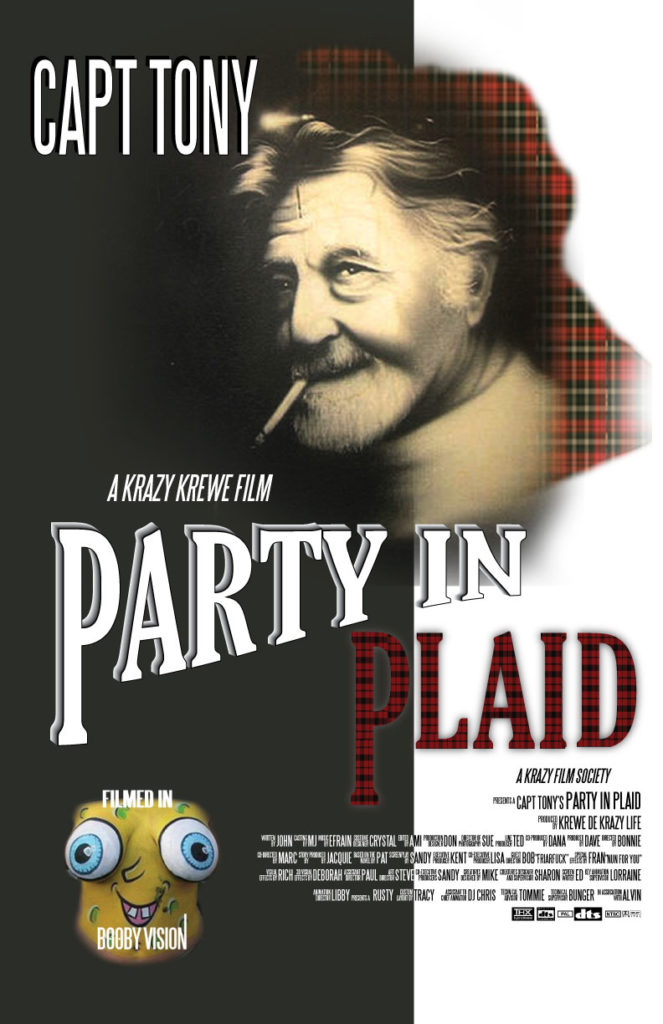 Party in Plaid at Capt. Tony's Tuesday @ 8pm
The krewe's own event that keeps getting bigger every year. Capt. Tony's is the only place to be Tuesday night as we celebrate the 15th anniversary of Party in Plaid. This was another krewe member suggestion. Back on 2002 Frank and Joanne had decided to show up the following year in Plaid on Tuesday night as there wasn't a theme yet for Tuesday night after much discussion thru out the year it was decided to show up at Capt. Tony's since that bar wasn't busy at all and thus starting the tradition of  making Capt. Tony's our home base during the week of Fantasy Fest. In 2005 we approach Capt. Tony's management about making Party in Plaid an official event and the rest is history.
Started by Krewe founder Frank in 2003.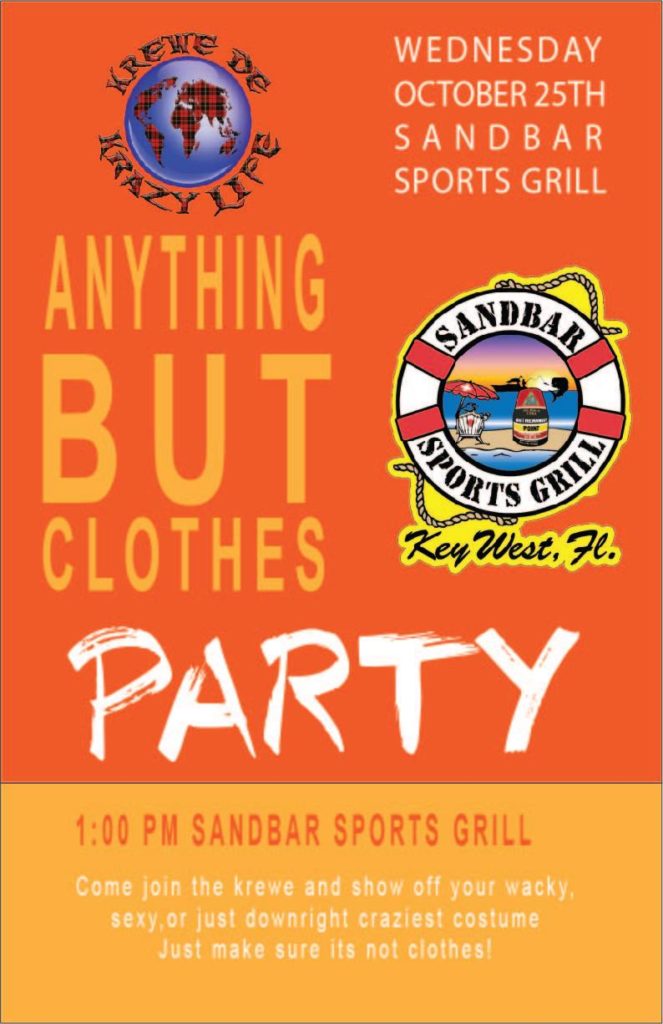 ABC Contest, Meet & Greet at Sandbar Sports Grill at 1pm

NEW LOCATION



Come to Sandbar Sports Grill on 511 Greene St.(across from sloppy joes) and Join the krewe as We all judge your Amazing Creativity in
designing your costumes made with Anything But Clothes. This started after hosting our annual Volleyball games at Southernmost Beach Cafe for about 9 yrs. More krewe members were showing up but not many wanted to play volleyball so we decided to change from a game to a theme contest. The first year(2014) we had bad weather but still manage to get about 11 couples and many more spectators. We had a great time seeing the krewe creativity in designing their ABC costumes. 2nd year(2015) we had  a bigger pool of contestants and spectators. Chris took over as MC of the contest and got prizes for the winners in the following categories: Best couple, Best female and Best male ABC costume. Our 3rd year we moved locations to Pinchers on Duval and we outgrew the place right away. We packed Pinchers for our ABC Contest, We had a lot of participants and as always the creativity of the krewe members was off the hook. This is a growing event for the krewe and this year no doubt we will have the biggest crowd to date at Sandbar Sports Grill.

Hosted/MC by Stopher.  Started by Krewe member Mr. Something in 2014.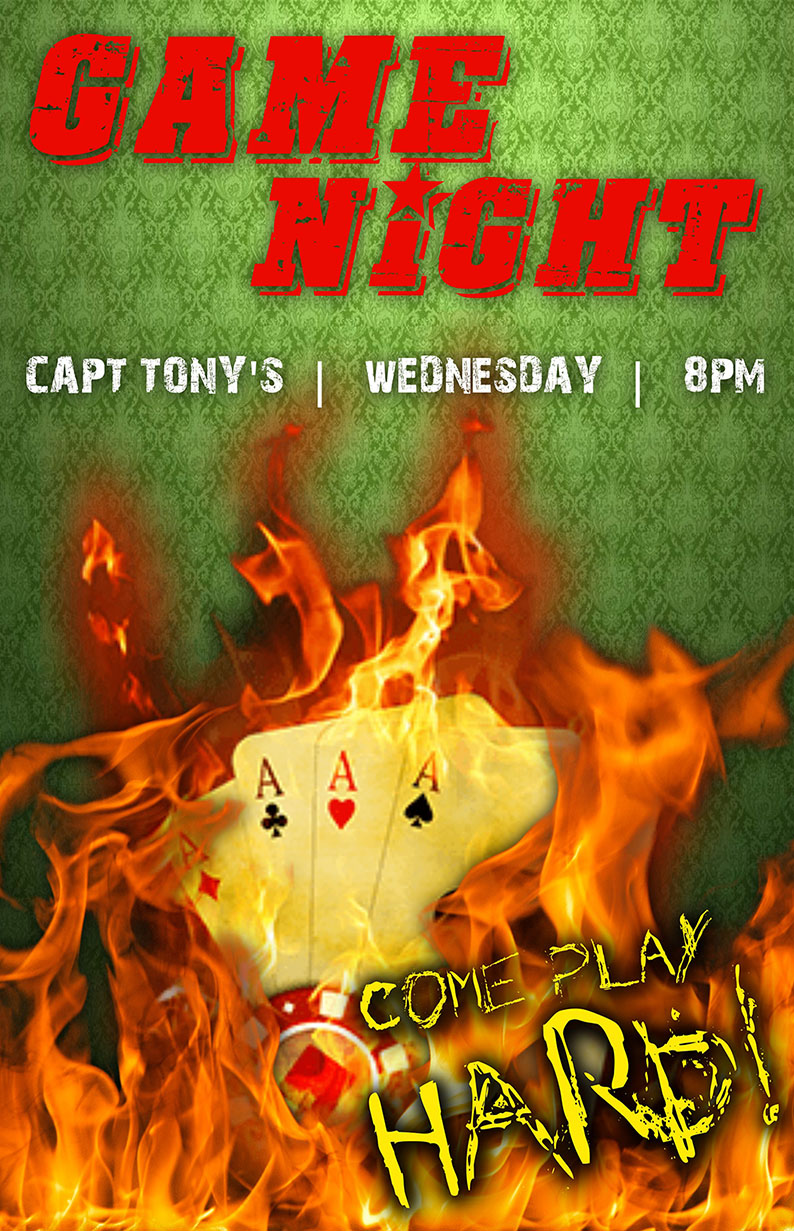 Pirate Party at Capt. Tony's Thursday Oct. 25th @ 8pm
Avast ye all Pirates and Wenches because Thursday night at Capt. Tony's Saloon will be the place to be seen and drink your favorite Pirate Punch while looking for the Booty...
Wear your Pirate and Wench costumes and find the Booty! This is another krewe member suggested theme night that has taken a life of its own. Back in 2008 Bobby suggested we dressed up as pirates to help them celebrate their 40 years of Friendship, Lust & Love. To read more of the story of this party click here
Started by Krewe members Bobby and Sandy in 2008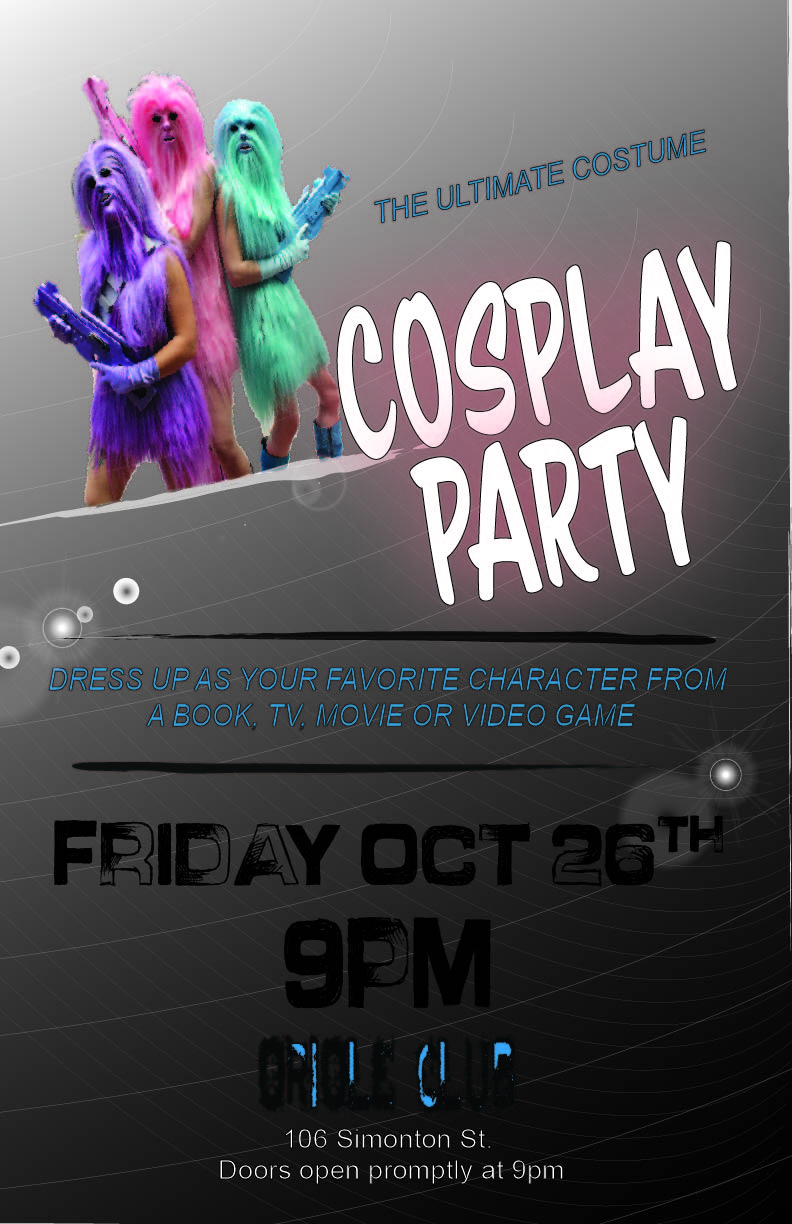 Private Krewe Party – Join us at The Oriole Club at 9PM *$$
Please Don't arrive early, Doors will open at 9pm

Theme: Cosplay


Join us at our private krewe party. As always Music and Appetizers will be available as we dance and party the night away, away from the madness of Duval
Appetizers will be available from New York Pasta Garden and bring some $$ for the Bar(Cash Only bar)… Remember what happens at the Oriole Club stays at the Oriole Club..... Lets make this AWESOME!
Tickets are required for this event. ($40.00 now per person- $50.00/pp day of event)
The Oriole Club is located at the corner of Simonton and Front St. It is a private venue with air conditioner, Full liquor bar(Cash Only), Second story platform with couches overlooking the dance floor and it is ours till 2am.
We will be selling tickets to the Krewe Party on the Krewe Store. You will receive your Krewe Party ticket in your email. You need to bring your emailed ticket to the party to enter.

Float Set-up at Truman Annex @ Noon
Come help us Decorate, load up the beads and put the speakers up and generator. It should take about 2 hours
to finished the decoration of the float for the parade. We can use all the help we can get, even if you are not going to participate in the parade, if you can spare an hour Saturday we will really appreciated.
We 
have a cookout at the float for all those helping to decorate the float.
Wristbands for the parade can be picked up at the float Saturday from 12 till 2pm and from 6:00pm till the start of the parade 7pm. We will be selling tickets to the parade on the Krewe Store (

$110 per person until Oct 1st

) and you will receive your parade ticket in your email. You need to bring your emailed ticket to be redeemed for a wristband on Saturday. The krewe wristband will also give you access to the after parade dinner at New York Pasta Garden.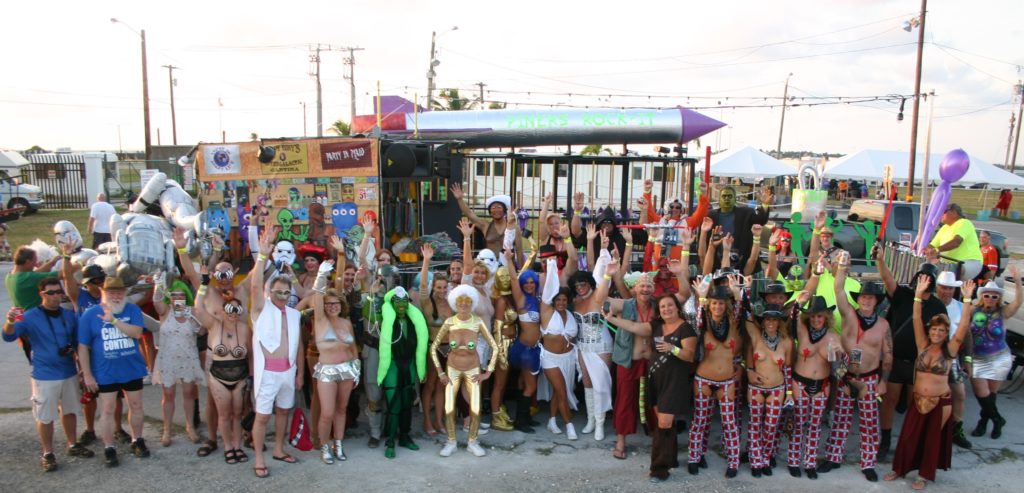 Fantasy Fest Parade Oct. 27th @ 6:30pm *$$
Show up by 6:30pm to get ready to walk in front of 70k screaming fans, passing out beads and having the time of your life.
You will not regret being in the parade. It is a truly an amazing event not to be missed.
After Parade dinner will be at Camille's 1202 Simonton St.

Naked Farewell at Capt. Tony's 7pm
One last chance to meet, reminisce and say your goodbyes till next year.
nothing formal, no costume required.
*$$ = Pay event go to www.krazykrewe.com/shop for tickets
copyright: 2018 Krewe de Krazy Life, Inc