Fantasy Fest ™ is an annual party held in Key West the last full week in October.
The 2015 dates are October 23rd – November 1st.
Fantasy Fest 2015 theme:
All Hallows Intergalactic Freak Show

™
Krewe Parade Theme:

Capt. Tony's Star Wars Cantina

This is not an official Fantasy Fest ™ website. The "Official Fantasy Fest ™" site is at http://www.fantasyfest.com. A lot of work is put forth by the Fantasy Fest ™ committee each year to pull off this event. We appreciate and support their time and efforts. This site is put together by and for people who enjoy Key West and Fantasy Fest™ to discuss their experiences, share photos, post links, or arrange to meet other members. To get the most out of this site, join the chats, post a message, explore the rest of the site, or email another member directly. If you post photos in the "Gallery" section, please consider posting a message in the "Krazy Photos & Videos" section so other members will know to go view them. Advertising or promoting events requires the prior approval of an administrator. In order to control SPAM, posts from new members are moderated. So our members can enjoy their time exploring this group, the policies for posting messages, photos, or links are as follows: 1. SPAM will not be tolerated. 2. Posts not related to Fantasy Fest™ or Key West are strictly prohibited, unless posted under one of the topics in the "Krazy Asylum" section. 3. Violators of these policies will be banned and the offending material will be removed. SPAMMERS Don't waste our time or yours!
Krewe de Krazy Life Member Sponsor Wall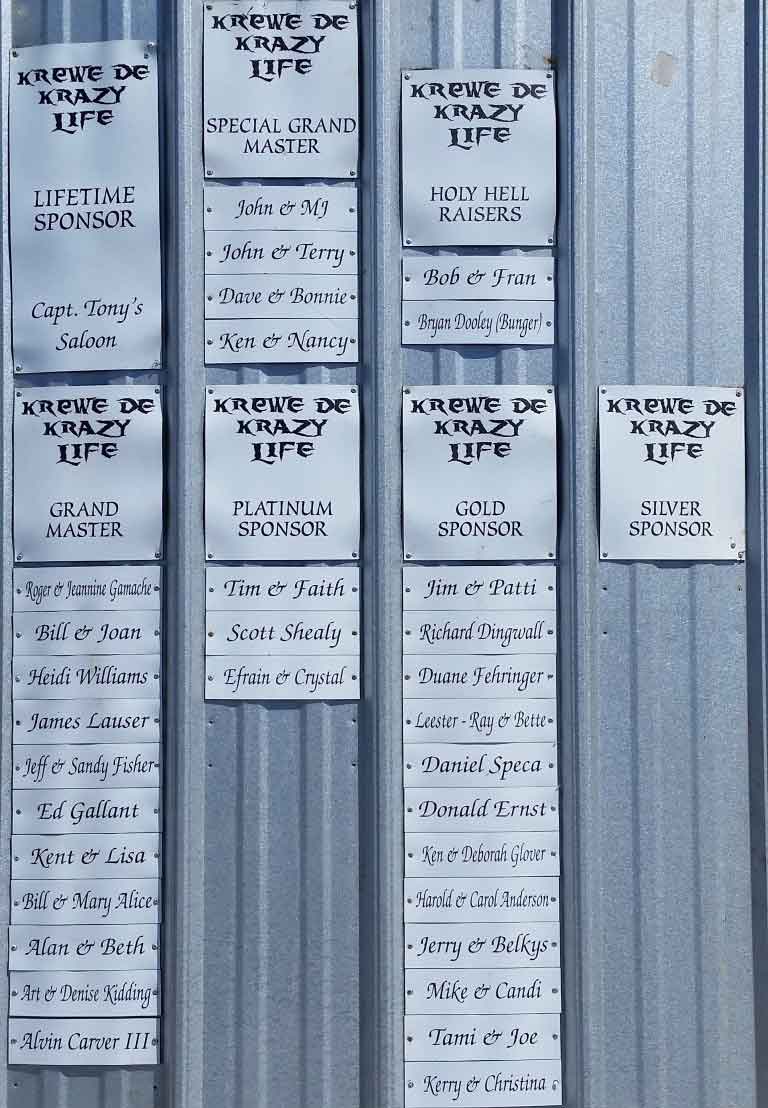 Krewe Events and Parties for the week of Fantasy Fest 2015
FRIDAY OCT 23rd


We're having a Mad Hatter Party at Capt. Tony's at 8:00pm.
The theme for the early birds of Fantasy fest will be Silly, Crazy, Funny Hats!
Wear your Silly hat and come out and join us at the unofficial "Mad Hatters party"!
SATURDAY OCT 24th


Little Black Dress Party at Capt. Tony's at 8pm
Wear your little/sheerest black dress or any color(if you are a rebel) you like but it has to be little
to start the beginning of Fantasy Fest right. Started by Krewe members Hula and Bigahm in 2011
SUNDAY OCT. 25th


Krewe Meet & Greet at the Galleon Sunset Tiki Bar Sunday at 3-6pm 617 Front St.
Meet & Greet to get to know your fellow krewe members. No costumes necessary.
We will be passing out the krewe badge to those members that ordered one.
It will be good for 2-4-1 drinks(Domestic beer-Well drinks-Margaritas on the Rocks) at the Sunset Tiki bar all week long starting with the meet and greet.
$5 Rum Punch or Blueberry Lemonade
Appetizers will be available to krewe members.
Started By Krewe member Jeff
Pirate Party at Capt. Tony's Sunday Oct. 25th 8pm
Wear your Pirate and Wench costumes and find the Booty! Started by Krewe members Bobby and Sandy in 2008
MONDAY OCT.26TH


Rumor Lounge Krewe Meet & Greet 1-3pm
Rubber Ball at Capt. Tony's at 8pm
Wear your kinky fetish wear to the Rubber Ball and Dare to enter the Dungeon of Desires!
TUESDAY OCT.27th


Tutu n Superheroes Scooter Krawl Poker Run – Scooters meet at Salutes on the beach at 12:30pm, Walkers meet at Tattoo's and Scars's at 1pm
$5 a hand of poker. Best hand wins $100. Drawing for non-winners $50.
You only pay once at the first bar then get a card at each of the 5 bars. You can play as many hands as you want at $5 a hand(a hand includes 5 cards)
Started by Krewe members Tony and Angie(ECB) in 2012
Party in Plaid at Capt. Tony's Tuesday at 8pm
Wear your best Plaid Outfit to the Krewe's Own Party in Plaid. Started by Krewe founder Frank in 2003.
WEDNESDAY OCT. 28th


ABC Contest Meet & Greet at Southermost Beach Cafe at 1pm
Come to Southermost Beach Cafe and Join the krewe as We all judge your Amazing Creativity in
designing your costumes made with Anything But Clothes.
Hosted/MC by Stopher.  Started by Krewe member Mr. Something in 2014.
Krazy C/O sunset cruise 5:30pm

SOLD OUT


Buy your tickets ahead of time this cruise sells out every year. Started by Krewe member Roger.
Capt. Tony's Sexy First Responders Party at Capt. Tony's at 8pm
A night to honor the always needed First Responders. They say that "imitation is the sincerest form of flattery". Lets show them how much they mean to not only the Krewe but the world. (in a fun way)
Wear your sexiest First Responders (Firefighters, Doctor, Nurses, Police, Coast Guard, Paramedics, Military Medics, etc) costume/body paint. Started by Krewe member Jerry in 2015
THURSDAY OCT. 29th


Capt. Tony's Walk on the Wild Side at Capt. Tony's at 8pm
Show us Your Inner Wild Animal by wearing the best costume/body paint that shows your Wild Animalistic side.
Animal print/paint anything. Started by Krewe member Angie(ECB) in 2014
FRIDAY OCT. 30th


Rumor Lounge Krewe Meet & Greet 1-3pm
Masquerade March – the krewe is dressing up in Star Trek Costumes and Pat will have his cart with jello shots.
Krewe is meeting at Susie's house at 726 Passover Ln. at 4:30pm  March starts at the Cemetery on Frances St. 5pm sharp
Freaks, Geeks and Strange Girls Krewe Party – Join us at Kelly's Caribbean Bar Grill and Brewery at 8PM *$$ till you can't Freak anymore.
THEY LET US COME BACK!
We have DJ Chris returning and of course the Kostume Kontest. This year break out your inner Freek, Throwback Geek (or current) and bring your strange Girl and join us OFF Duval for a fun event.
Prizes for the Best Single and Group Freak, Geek, and all around Strange Girl.
Finger Foods will be available and bring some $$ for the Bar… Lets make this AWESOME!
Tickets are required for this event. ($30.00 now $40.00 day of event)
Please purchase at the Krewe store. Krazykrewe Store
SATURDAY OCT. 31st


Float Set-up at Truman Annex 11am
Come help us Decorate, load up the beads and put the speakers up and generator. It should take about 2 hours
to finish.
Ami and Don will have a cookout at the float for all those helping to decorate the float.
Fantasy Fest Parade Oct. 31st 6:30pm *$$
Show up by 6:30pm to get ready to walk in front of 70k screaming fans, passing out beads and having the time of your life.
You will not regret being in the parade.
After Parade dinner will be at New York Pasta Garden.
SUNDAY NOV. 1st


Naked Farewell at Capt. Tony's 7pm
One last chance to meet, reminisce and say your goodbyes till next year.
nothing formal, no costume required.

*$$ = Pay event go to www.krazykrewe.com/shop for tickets
copyright: Krewe de Krazy Life, Inc